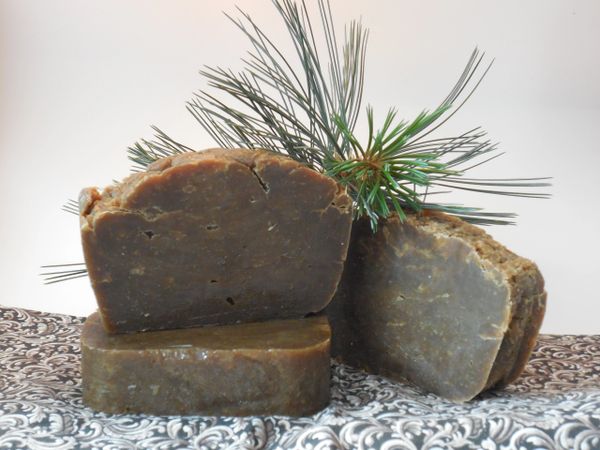 Gramps Ol'Fashioned Soap
For many decades folks have been loyal users of pine tar soap for use on skin and scalp.  This bar is loaded with essentials oils, including Tea Tree, Peppermint and Lavender..  This soap is made using a traditional cooked method, (also known as "hot process") to give us better control over how the ingredients interact.  We do not trim this bar but leave it with a rustic look for fun.
Price is per bar.  Each bar is a generous 5 oz or more, at shipping. (We also offer a smaller travel bar)
Ingredients: Cocos Nucifera (Coconut) Oil, Elaeis Guinensis (Palm) Oil, Olea Europaea (Olive) Fruit OIl, Sodium Hydroxide, Pinus Palustris (Pine) Wood Tar, Butyrospermum Parkii (Shea) Butter, Distilled Water, Glycerin, sugar,  Vitamin E, and Essential Oils.
This product and the statements made about this product have not been evaluated by the FDA.  This product is intended for external use only and is not intended to treat, cure or prevent any condition.
We do not recommend this soap for pregnant or lactating women .  As with any product you should test this on a small area to ensure you are not sensitive to this product or any of its components.  Discontinue use immediately if you experience any negative effects from the use of this soap.